DISNEYLAND® Resort
Hot Deals
Special promotions for Disneyland® Resort
Combo Tickets & Packages
Bundle and Save on Disneyland® Resort ticket combos and hotel packages
Magic for Days
One day is never enough at Disneyland® Resort

Soarin' Around the World
Disney California Adventure® Park

Magical Travel Tips
Tips for Visiting the Disneyland® Resort
Disneyland® Resort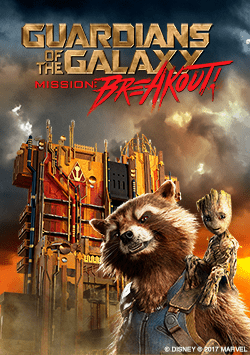 Guardians of the Galaxy — Mission: BREAKOUT!
A Rockin', Free-Fall Adventure
This amazing new experience debuted this summer at Disney California Adventure® Park. You're needed to come help Rocket bust out the other Guardians trapped in the Collector's Fortress. It's an action-packed and rocking good time, with all-new audio and visual effects and music from the film soundtracks. And with multiple ride experiences, you never know which adventure you'll get!
As you stand in line, take the time to look around the "Gardens of the Galaxy" outdoors and Tivan's collection of artifacts inside the attraction. In addition to bits of The Twilight Zone Tower of Terror™ references, this collection features many rare and unique original items from other attractions including Harold the Yeti (original animatronic from Matterhorn) seen on the way to the gantry and other classic items like a tin Mickey Mouse and an original park map rolled up and tucked in the shelves of Tivan's office. You will have to visit this attraction to find the rest of the hidden gems. Hot Tip: This is a MUST-SEE attraction!
Help #SaveGroot at Guardians of the Galaxy - Monsters After Dark During Halloween Time at the Disneyland® Resort, September 15 - October 31!
Once the sun sets each evening during Halloween Time at the Disneyland® Resort, Guardians of the Galaxy - Mission: BREAKOUT! will transform into Guardians of the Galaxy - Monsters After Dark. Music continues to be at the heart of the experience, and an all-new song, "Monsters After Dark," was created especially for this attraction by Tyler Bates, composer of the "Guardians of the Galaxy" films.
---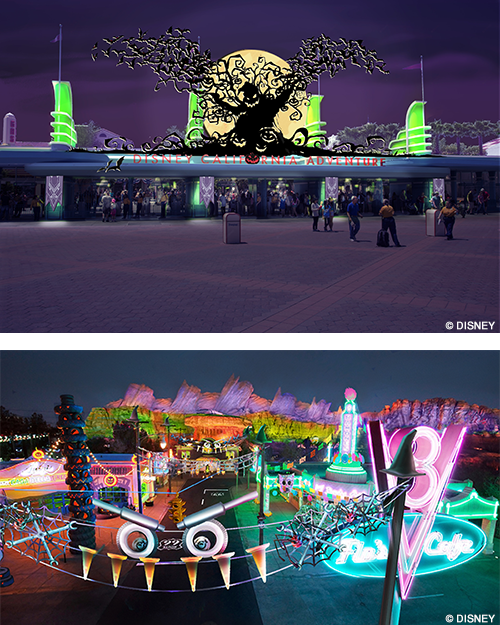 Halloween Time at Disneyland® Resort
From September 15 to October 31, 2017, it's Halloween Time at the Disneyland® Resort. Oogie Boogie from Tim Burton's The Nightmare Before Christmas has taken over the entrance to Disney California Adventure® Park where bats fly from the branches of an enormous Oogie- Boogie-shaped tree over the turnstiles.
On Buena Vista Street, Halloween Time décor surrounds the iconic Carthay Circle Restaurant as orange lit trees glow eerily near the fountain, which bubbles green water.
In Cars Land, all of your favorite Radiator Springs characters have decorated their own area for Halloween using the automotive parts they have around. Mater has dressed up as a vampire and turned Mater's Junkyard Jamboree into Mater's Car Graveyard JamBOORee. At the Cozy Cone Motel, the big orange traffic cones have been transformed into Jack-a- Cones. Even Cadillac Range has changed colors, going from red and gold to purple and green.
Over at Disneyland® Park you'll find special seasonal treats like Haunted Mansion Holiday and Space Mountain: Ghost Galaxy. You might even meet some Disney villians or maybe Mickey Mouse and some of his Disney Character pals, all dressed up in their Halloween best. Plus, don't miss the Pumpkin Festival on Main Street, U.S.A.
There is so much to see and do during Halloween Time at the Disneyland® Resort you will need multiple days to experience it all!
Disclaimers: All attractions and entertainment are subject to change without notice. Jack Skellington and Haunted Mansion Holiday are inspired by Tim Burton's The Nightmare Before Christmas. © Disney © Disney/Pixar
---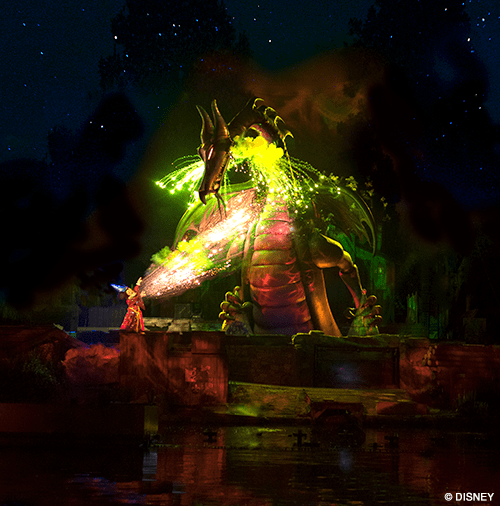 The Return of Fantasmic!
For 25 years, "Fantasmic!" has taken Disneyland® park guests on a journey into Mickey Mouse's imagination, and its return brings new magic to this beloved nighttime spectacular! The treasured Disneyland® park experience guests have loved for years, complete with its original fanfare and theme song, is taken to brilliant new heights. New mist screens are combined with innovative, state-of-the-art projection technology for brighter and more vibrant visuals than ever before, and the show features new scenes inspired by Disney animated classics such as "Aladdin" and "The Lion King."
Fantasmic! Dining Packages
These delightful dinner and entertainment packages include a fixed price meal at the following restaurants plus admission to a reserved viewing area for Fantasmic!.
Blue Bayou Restaurant: This world-famous restaurant offers dining as if you are on a "outdoor" patio under a perpetual twilight sky, but you're actually inside the Pirates of the Caribbean attraction. This package includes a 3-course dinner (starter, entree and dessert).
River Belle Terrace/Cafe Orleans: ** PLEASE NOTE - River Belle Terrace will be undergoing a refurbishment from September 5, 2017 through November 16, 2017. Cafe Orleans will be offering Fantastic! packages during this time. ** At River Belle Terrace you can enjoy the picturesque view of the Rivers of America while listening to the distant sound of Dixieland jazz in the background. While at Cafe Orleans, savor a Creole-inspired cuisine while soaking up the French Quarter ambiance from the outdoor patio or indoors. This package includes a 3-course dinner (starter, entree and dessert).
Hungry Bear Restaurant: This restaurant offers a convenient packaged meal on-the-go, whether you want to dine at the restaurant or take with you as you explore is up to you. The menu is specifically created for this event, you choose from 4 delicious entree options. This is not a 3-course dinner, but rather a packaged meal to go.
** Separate theme park admission is required for dining packages. Meal package prices do not include park admission, tax or gratuity. One voucher for Fantasmic! reserved viewing area is included with each dining package for the restaurants listed above, and will be received upon paying for your meal. Entertainment schedules may not occur daily and are subject to change without notice. © Disney
---
Rivers of America Re-Opens
Disneyland® Railroad Debuts New Route at Rivers of America
The Disneyland® Railroad is back, along with a few other attractions at newly configured Rivers of America! After a long hiatus, the Disneyland® Railroad returns with new breathtaking views, and for the first time ever, a left-hand turn as it circles the park. The route has been updated and now features an elevated trestle and cascading waterfalls. Relax as you enjoy this 18-minute trip inside an authentic steam-powered train while it embarks on a journey just over a mile long. There are 4 convenient stops along the way: Main Street, U.S.A, Tomorrowland, New Orleans Square, and Mickey's Toontown.
In addition to the Disneyland® Railroad and Fantasmic!, the re-opening of Rivers of America also includes Mark Twain Riverboat and Sailing Ship Columbia, Pirates Lair on Tom Sawyer Island, and Davy Crockett Explorer Canoes.
---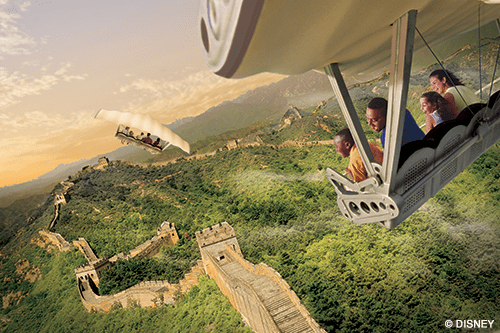 Soarin' Around the World
An Exhilarating and Epic Voyage
Soarin' is now departing on a brand-­new around-­the­‐world adventure! Get ready for a breathtaking journey along the majestic Great Wall of China, glide over the windy peak of Switzerland's Matterhorn mountain, or sail over Australia's spectacular Sydney Harbour! At Disney California Adventure® Park, your imagination can take flight in this epic re‐imagining of a classic attraction. Come experience Soarin' Around the World!
This is your chance to feel like you're flying on a hang-gliding ride along the horizon—all set to an iconic musical score—before coming in for a climactic and unforgettable landing!
---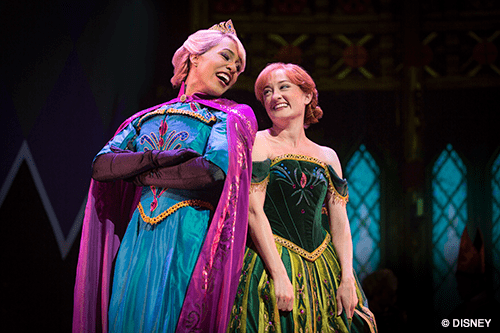 Frozen - Live at the Hyperion
Experience the emotional and heartwarming story of Anna and Elsa in a spectacular new theatrical interpretation of Disney's animated film!
Frozen—Live at the Hyperion in Disney California Adventure® Park brings to life the timeless story of Anna, Elsa, Kristoff, Sven and everyone's favorite snowman, Olaf, in a spectacular musical stage production. From the moment the curtain rises, you'll be absolutely mesmerized by this heartwarming tale of two sisters who learn that their love for each other is what matters most. With a cast of beloved Characters, an engaging story, unforgettable songs, elaborate sets and stunning special effects, Guests can expect an incredible theatrical experience that will delight the entire family.
The team at Walt Disney Imagineering Creative Entertainment sought out new and exciting ways to tell Anna and Elsa's story. Among other innovations, this dazzling theatrical production incorporates state-of-the-art projections and motion capture technology to create several "Wow!" moments for the audience.
What's New at Disneyland® Resort
Disney MaxPass vs. FASTPASS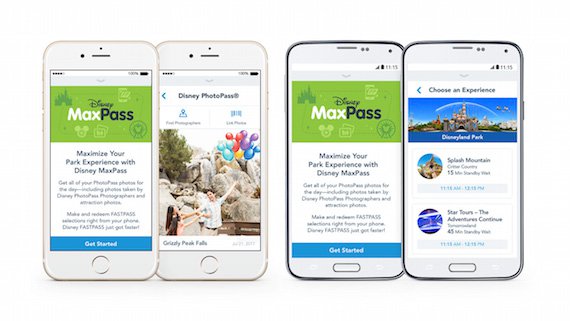 FASTPASS service essentially saves your place in line when you check-in for an attraction. You must check in at the FASTPASS Distribution area near the attraction entrance. These are self-service machines, and availability is on a first-come first-serve basis. Upon entering your theme park ticket into the machine, you will receive a FASTPASS ticket indicating your return time window. Just come back during time indicated on FASTPASS ticket and enter attraction through the FASTPASS line with a minimal wait.
Disney MaxPass combines the value of unlimited downloads of Disney PhotoPass photos with the convenience of Disney FASTPASS for the price of $10 per day, per ticket. FASTPASS distribution through MaxPass works very similarly as before, on a first-come, first-served basis. However, by accessing FASTPASS digitally through the app, Guests will save the time it takes going from place to place and waiting in the distribution line to get a FASTPASS. To use MaxPass, you need a smartphone and the official app for Disneyland® Resort. Simply sign in to your account, and you're all set to reserve your FASTPASS return time with the tap of a finger. If you didn't purchase your tickets through the app, you can easily link your park ticket or annual pass by scanning the bar code on the ticket.
Best times to visit
Low Crowd: mid-January through mid-February (after New Year and before Spring Break)
Mid Crowd: May, September, weekdays in October and early November
Most Crowded: March/April (Spring Break), June-August (Summer), holidays*
*Note that the busiest times are generally the holidays (weekends) including MLK Day, Presidents Day, Easter, Memorial Day, 4th of July, Halloween, Veteran's Day, Thanksgiving, Christmas, New Year
Good To Know
Park Hopper® Tickets vs Single-Park Tickets
A Park Hopper® ticket lets you enjoy same-day access to both Disneyland® Park and Disney California Adventure® Park. There are no limitations on entries and exits within current park hours. A single-park ticket only allows access to one park. Which ticket is better for you?
Picking the right ticket depends on you and your plans while visiting Disneyland® Resort. There are many variables that come into play with the ticket type, and it is important to consider if these matter enough to you to pay a little bit more for your experience. In our opinion, the greatest advantage of the Park Hopper® is flexibility.
Here are some reasons why you may want to pay just a little bit more for a Park Hopper® ticket:
First time visiting the parks?
If you have not been to either park before, you will not know which areas you want to spend extra time in or come back to. Perhaps you are well organized and you map out your entire day at one park before you even get there, but what if something closes temporarily or the lines are just too long?
Traveling with small children?
We all know that sometimes kids can be unpredictable...bad day, stomach ache, fear, naps, too hot, just tired or moody...flexibility is important when these things happen!
Adapting to crowds
If one park gets too crowded or seems overwhelming, just hop on over to the other one for a bit.
Single-day or multi-day trip?
Either way, flexibility is important. If you are going for just one day, you can see both parks with a Park Hopper® ticket. It can be difficult to choose which park to visit - they are both amazing! If you are coming for multiple days, you will still enjoy the flexibility of a Park Hopper®. Consider how much time you might lose if you go to Downtown Disney® for a break from the crowds or just looking for additional dining options; you can escape or find additional options by going to the other park. Remember, you don't need a ticket to visit the Downtown Disney® District - you can do that anytime. Temporary ride closures can happen occasionally, if this happens during your visit you can just hop around until it re-opens. And don't forget how bad weather can put a damper on your plans. Having the freedom to go between both parks in one day can brighten your experience during inclement weather. You will especially want to consider this if you are only visiting for one day!
Weather in general
Although Southern California mostly has idyllic beautiful days, it can get too hot for some and can rain on occasion. Some areas and attractions are better than others for escaping heat or hiding from the rain, especially for the younger and older crowd. Better to have the flexibility to hop around.
Dining options
In addition to general food choices at the parks, whether you have special diet needs or just want to enjoy an alcoholic beverage you will have more flexibility with a Park Hopper® ticket. Disney California Adventure® Park sells serves alcohol, Disneyland® Park does not!
Shows/Entertainment
Need we say more? Each park has a unique line-up of amazing shows and entertainment. Why not get a Park Hopper® ticket and see them all!
Magic Morning
Magic morning allows for one early admission to select attractions, stores, entertainment and dining locations one hour before the park is open to the general public. This bonus is included with all 3+ day Park Hopper® tickets.
Lost Tickets
If you purchased your tickets online, you should be able to contact the vendor that you purchased from for assistance. It is important that you purchase your tickets from an Authorized Ticket Seller. If you purchased your tickets through arestravel.com, please call 800-434-7894 for assistance.
Tickets are not refundable or transferable. Disneyland® Resort is not responsible for lost or stolen tickets or property. Tickets can be replaced if they can be verified and remain unused for the date(s) you are trying to attend the park. For additional questions or further assistance, please see a guest relations Cast Member in Disneyland® Park City Hall or Disney California Adventure® Park Chamber of Commerce.
Parking, Directions, and Transportation
DIRECTIONS
The Disneyland® Resort is located in Anaheim, California, just off of the Interstate 5 freeway.
Use the the Disneyland Drive exit for Mickey & Friends parking structure or one of the three on-property hotels.
Use the Harbor Boulevard exit for access to other area hotels.
THEME PARK PARKING
Parking opens one hour before the theme park opens. Disneyland® Resort has several parking areas, all require a valid pre-purchased parking voucher or you can pay at time of entrance; traffic signs will direct you to the lots that are in use the day of your visit.
Please note: parking vouchers are valid for theme park parking only and are good for one day of parking for a standard-size vehicle or motorcycle. They are not valid for oversized or commercial vehicles. They are not valid for Downtown Disney District or hotel parking.
The Mickey & Friends parking garage is one of the largest parking garages in the world and is the main parking area for the Resort. The structure offers surface-level parking for busses and recreational vehicles.
Guests who are coming from the North or West will likely find Mickey & Friends more convenient because there is a special ramp that leads from the freeway to the parking structure. Visitors who plan to include a stop at Downtown Disney District might also prefer to park at Mickey & Friends because of the proximity to the trams that go back and forth. Trams are stroller and wheelchair accessible. The walk from this lot is about 3/4 of a mile.
The Lion King parking sections are comprised of the Simba Lot behind the Paradise Pier Hotel and the Pumbaa Lot off Disney Way across from Anaheim Garden Walk. Access from the Simba Lot is by foot through Downtown Disney (about 1/2 mile); access from the Pumbaa lot is by foot across Harbor Blvd (about 1 mile). Shuttle bus service is occasionally offered from the Pumbaa lot. There is no tram or bus service from the Simba lot.
The Toy Story lot is near the corner of Harbor and Katella. Guests traveling from the South or East will find there is less traffic traveling to the Toy Story Lot than the Mickey & Friends Structure. If you have small children and strollers you might appreciate the short walk to the bus at the Toy Story Lot. Whether you have strollers or just prefer more room on the transport to the Parks, you might appreciate the buses that service the Toy Story Lot because of their easy access for strollers, their wide seats and the air conditioning.
Visitors may also be directed to park in the Anaheim Garden Walk parking structure. This structure is directly across from the Pumbaa parking lot, about a 1-mile walk from the Disneyland® Resort. When in use for Disneyland® Resort parking, shuttle bus service is offered from this lot, and regular Disneyland® Resort parking rates apply.
To avoid being parked in one of the "remote" or "overflow" lots, it's best to use the Disneyland Drive exit from the I-5 South, or follow the signs for the Disneyland® Resort Hotels if you arrive from another direction.
As to images, logo and properties © Disney
Enter your email address and get the scoop on special offers.